Examples of Orgahexa Products
œ Golf wears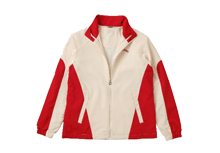 This wear "perfectly protects you from coldness" when you are playing golf in late autumn, winter, or early spring. "Orgahexa" is inserted in a pocket created on the back part of the shirt just below the neckline. With its "far-infrared" effect, it slowly warms the upper part of your back just below the neckline which gets chilled easily, and helps improve your entire blood circulation so that you can feel all warmed up and comfortable during play. With this wear, you can enjoy winter golf without wearing so many clothes.

(Co-developed with Bridgestone Sports Co., Ltd. - a manufacturer of sports gear)
œ Wall / Floor furring and curtain lining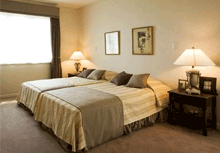 A demonstration experiment on the possible use of Orgahexa as new housing material has been conducted in the Tokyu Homes' experimental house focusing on its function of "absorbing and reducing harmful chemicals". "Orgahexa" is expected to create a comfortable living environment with its effect of absorbing moisture or odor by utilizing its porous property. The advent of new building material, which realizes a comfortable living environment, has been awaited.

(Co-developed with Institute of Evidence Based Health-promotion Housing of Tokyu Homes Corporation)
œ Business suite specially designed to help alleviate stiff shoulders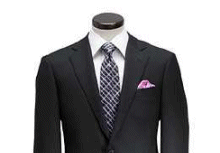 Focusing on the research outcome that shows "Orgahexa" , which is produced by carbonizing the fiber itself at high temperature, emits more far-infrared radiation and helps improve blood circulation, this business suit was developed by placing strong permanent magnet and Orgahexa in the neck part of the suit and was sold as the first suit in Japan to improve blood circulation with the effects of magnetic force and carbon. There are many tiny pores on the surface of Orgahexa, and its surface area per gram is equivalent to the area of 4 tennis courts (approx. 1,300‡u). Therefore, this business suit can also eliminate odors attached to it, such as odor of sweat, cigarette, or age-related body odor, and has antibacterial effect.

(AOKI Inc. - a menswear maker)
Originally Developed Products
œ Orgahexa Belly Warmer
œ Orgahexa Neck Heater
œ Orgahexa Eye Warmer
œ Orgahexa Insole
Possible Applications of Orgahexa
' Beauty Products

With Orgahexa facial masks, facial treatments to improve blood flow can be easily performed at home. Orgahexa can be applied to beauty products to reduce neck wrinkles or to improve poor circulation, which is the biggest enemy of women's beauty. It is possible to develop unprecedented beauty goods by adding Orgahexa that provides high-level beauty effects.
' Pet Goods

Nowadays, pets are regarded as a family member. As pet owners wish their pets' well-being and longevity, there is a great demand for "pet healthcare products". Orgahexa can be applied to pet beds or blankets that keep them warm, or dog/cat clothes, collars, and mats that improve their blood circulation. It is also suitable to use Orgahexa in bags and cages you bring when you walk a dog, as Otgahexa has high deodorizing, disinfecting, and antitick effects.
' Out Door Goods

As Orgahexa has a superb thermal insulation effect, it is suitable to use it in out door goods such as mountaineering or camping goods. As Orgahexa uses your body temperature to keep your body warm, it achieves a high level of safety - even an Antarctic expedition party tried it as "a body warmer without a risk of getting a low-temperature burn". With its light and soft property, application of Orgahexa can be expanded to wears, mountaineering boots, sleeping bags, tents and lots more. Added to that, it can make out-door life more comfortable with "deodorizing and disinfecting functions of charcoal".
' Traveling

With economy-class syndrome having been in the news, how to keep your well-being in a narrow confined space during traveling gets people's attention. "Orgahexa" can support your well-being by "improving your blood circulation" and "preventing you from swelling" with far-infrared radiation of charcoal. Orgahexa can be utilized to develop value-added products such as a "tireless seat", on which you can sit for a long period of time without feeling tired, or a "car cushion" that protects you from getting back problems.
' Health care support

Orgahexa has a variety of superb effects that can support your well-being such as "hyperthermia effect" that alleviates the feeling of cold, and "improving blood circulation" effect that helps reduce "pain, tiredness, and swollenness". By applying Orgahexa to ordinary healthcare products such as joint supports, corsets, blankets, leg warmers, insoles and slippers, you can develop or convert them into "value-added healthcare products" that promote well-being of people.